UPDATED: June 16, 2019. This post was originally written 4 years ago when I used Dragon, spoke naturally, and dictated this article. My computer transcribed what I wrote using speech-to-text software.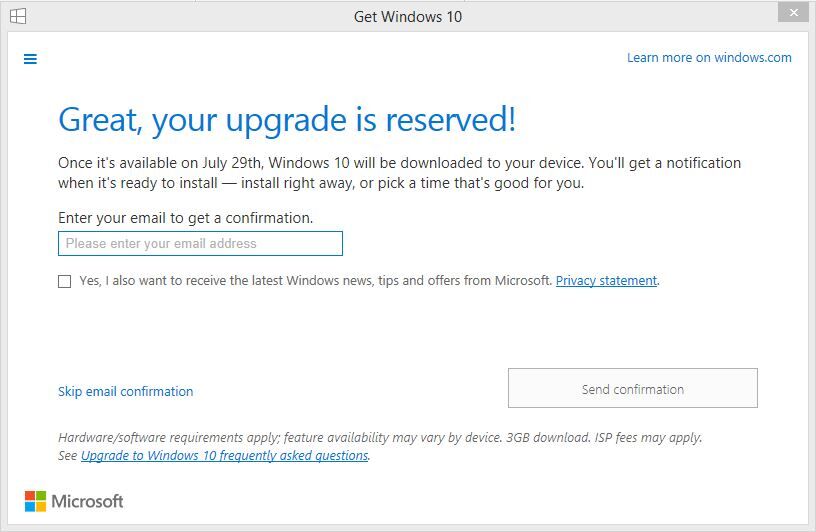 Right now, I'm using Dragon NaturallySpeaking 13 with Windows 8.1 Pro.
But, in a few months (on July 29, 2015) to be exact, my computer will apparently auto magically download and upgrade to the newest version of Windows.
And, I like that it's free.
I wasn't expecting to upgrade to Windows 10.
There was a little innocent button at the bottom of my screen inviting me to get Windows 10.
A few clicks later, and I'm on the waiting list.
And then I had to figure out what was new about Windows 10.
I watched their lovely promo video, but nothing really jumps out at me. Apparently I can do familiar things, unexpected things, and even great things. We'll see.
Windows 10 will have voice recognition.
I'm a little bit interested because it looks like you can dictate text using speech recognition in Windows 10.
I'm not sure how accurate it will be compared to using Dragon, speaking naturally, and getting my Windows machine to type down what I say – we'll have to wait to find out.
I watched a quick preview of Cortana, Microsoft's voice assistant. (It kind of looks like Siri… on a Windows PC.) It was an early build at Microsoft's preview event, so I'm sure it will improve.
The reporter was in a crowded room speaking to a laptop microphone which didn't understand all of his instructions.
(I've seen Dragon NaturallySpeaking work in a demonstration in a loud crowded exhibit hall with impressive accuracy. Mind you, the demonstrator was talking into a USB microphone headset and not the laptop microphone like in the Windows demo.)
Personally, I don't use voice recognition to control my laptop.
(If you have a physical disability, or carpal tunnel syndrome, then using voice recognition to control your computer might be essential.)
Recently, a visitor left a comment about how he uses Dragon to control his mouse:
"…I use a USB headset. I am paralyzed from the neck to the feet. Multiple sclerosis. I use Dragon NaturallySpeaking software since 2010. I think I had versions 11 and 12.

I use Dragon NaturallySpeaking 13 since 2012. It's amazing to control the mouse and computer settings (I'm still using Windows 7).

For writing in French, the software perfectly transcribes my voice. I even wrote a 214-page novel.

For the Web, it works very well with Google Chrome and Mozilla Firefox.

I also created commands to make my job easier. For example, to automatically write my mailing address and e-mail.

This software has changed my life. [It] gives me freedom.

F. Marcotte Comment
Personally, I dictate into Microsoft Word and I use my mouse to click on things, but I could see how voice-recognition could speed up the process.
After all, we speak into Siri and our phones with simple commands. Maybe that's the next step for PCs and desktop computers?
Time will tell. I really should do a comparison review one day…